---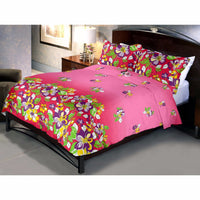 Sale
Reddish pink flowery bed sheet is having multicoloured flower designs which would be liked by kids the most. It has a very pleasant look.

Geeky details:
It is a pleasant coloured bed sheet with multicoloured flowers. 
Dimensions of queen size bed sheet is 88" x 95".
Dimensions of two pillow covers are 16'' x 24".
Made of 100% cotton.
Long lasting quality.